John Herich – Senior Technical Scientist, Novo Nordisk
Introduction
Running cell-based assays for drug discovery projects often requires adding cells in suspension to 384 well microplates.  The dispensing of cells into microplates requires that they are continuously stirred so that they don't settle during pipetting.  The cell transfer must be consistent and uniform from well to well and across multiple plates.  Keeping cells in suspension with a magnetic stir bar can be challenging as the stir bar will cause the cells to congregate away from the vortex as well as shearing the cells caught between the vessel bottom and the stir bar.  V&P Scientific has developed a line of vessels called SpinVessels® which work without a magnetic stir bar.  These vessels keep cells in uniform suspension without reducing viability by coupling to a machine that oscillates the vessel back and forth to produce a circular Pulsed Radial Flow™ of liquid within the vessel.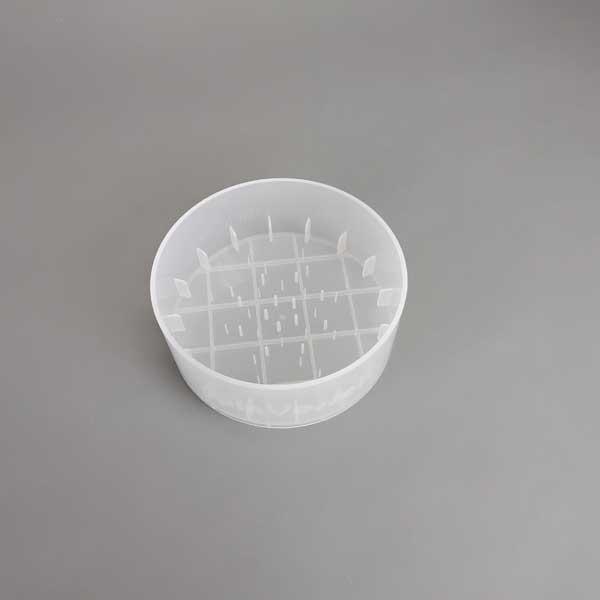 I tested the machine that spins the vessel back and forth (VP 418SV1-1-650) and the SpinVessel® (VP 830SV-1-650FB) which connects to the spinning machine using a Chinese Hamster Ovary Cell line (CHO-K1, ATCC CCL-61) diluted in DiscoverX media, Assay Complete Cell Culture Kit-107™.  Cell counts and viability were determined using the Chemometec Via1-Cassette™ together with the NucleoCounter® NC-200™.  To determine viability and cell concentration, a sample containing cells in suspension was drawn into the Via1-Cassette™. The inside of the Via1-Cassette™ is coated with two different dyes, staining the entire population of cells and the non-viable cells, respectively. The volume of each Via1-Cassette™ has been calibrated to give a high precision of the resulting count.  Even after 1.5 hours of mixing the Chinese Hamster Ovary cells showed viability of greater than 96.9% and 178,000 cells per ml.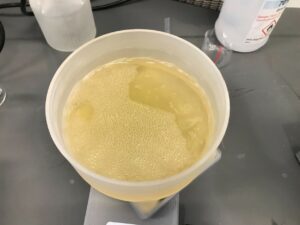 Methods
Cells were harvested from tissue culture flasks and were counted showing 178,000 cells per ml.
350 ml of the cells were mixed for 1.5 hours on SpinVessel at 155 RPM and 3 rotations before spin reversal with a one-second pause.
The SpinVessel reservoir was moved to the deck of an Analytik Jena FeliX robot (not active mixing at this point).
Cells were plated into two 384 well plates using the FeliX robot that was equipped with a 384 pipet head and 384 sterile 60 µl tips
25 µl of cells were added to each well, 4438 cells per well
Cells allowed to grow overnight (24 hours)
Cell Titer Glow reagent added, 25 µl per well
Plate was incubated for 15 minutes and read on a BMG PHERAstar® plate reader to determine Relative Luminescence Units
Results
Plate 1 Relative Luminescence Units

Standard Curve Prepared To Convert RLU (Relative Luminescence Units) To Cells Per Well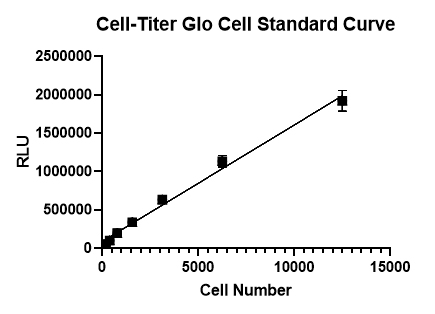 Plate 1 Converted From RLU To Actual Cells Per Well

| | |
| --- | --- |
| Average | 8190.05823 |
| Standard Deviation | 277.956572 |
| %CV | 3.9382901 |
RLU determined for a 384 format aliquot taken from the 650ml Flat Bottom SpinVessel® to determine the uniformity of suspension from the edges to the center. Averages are calculated across rows and columns with error bars representing standard deviation. Also included are %CVs across each row and column.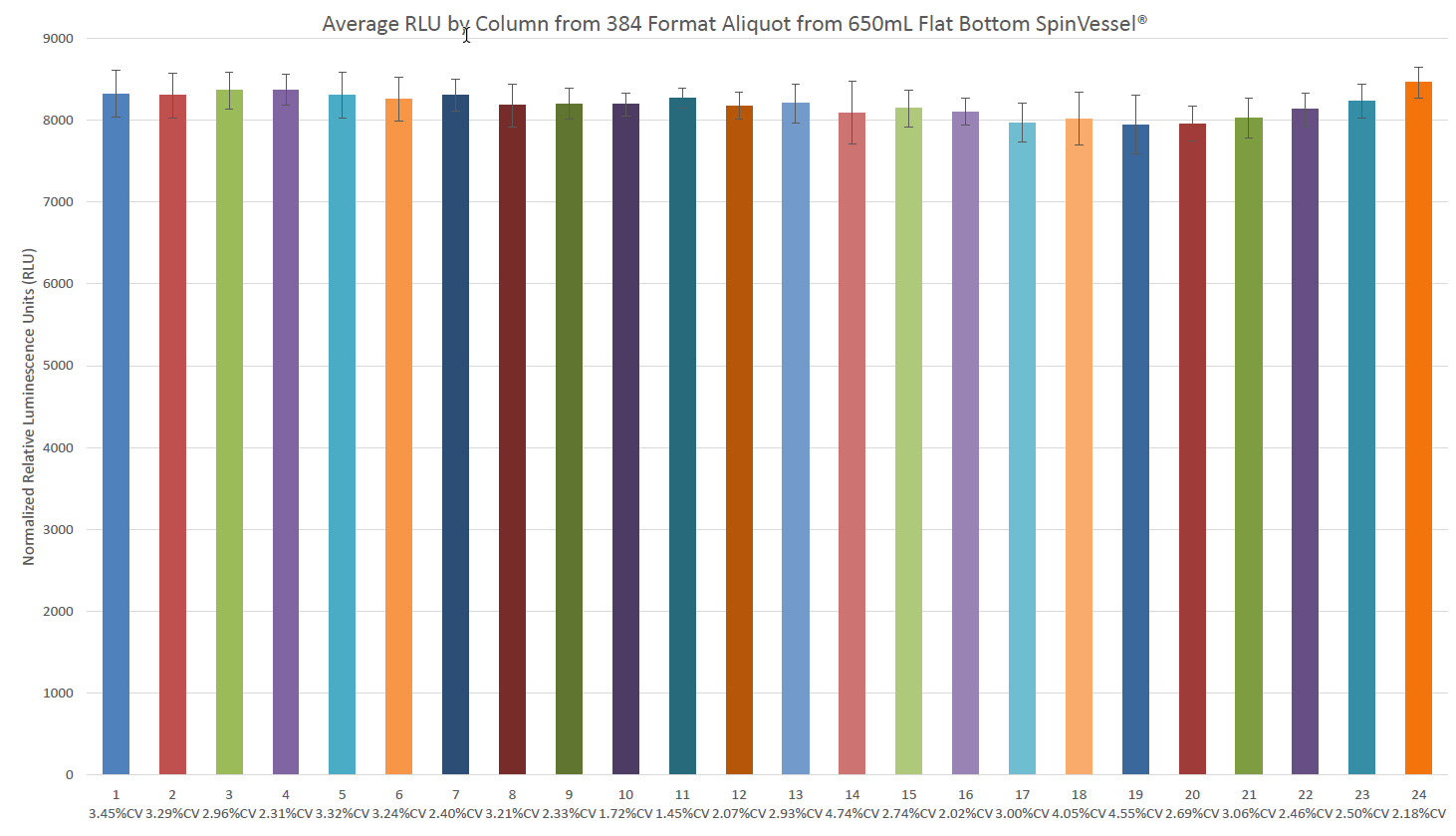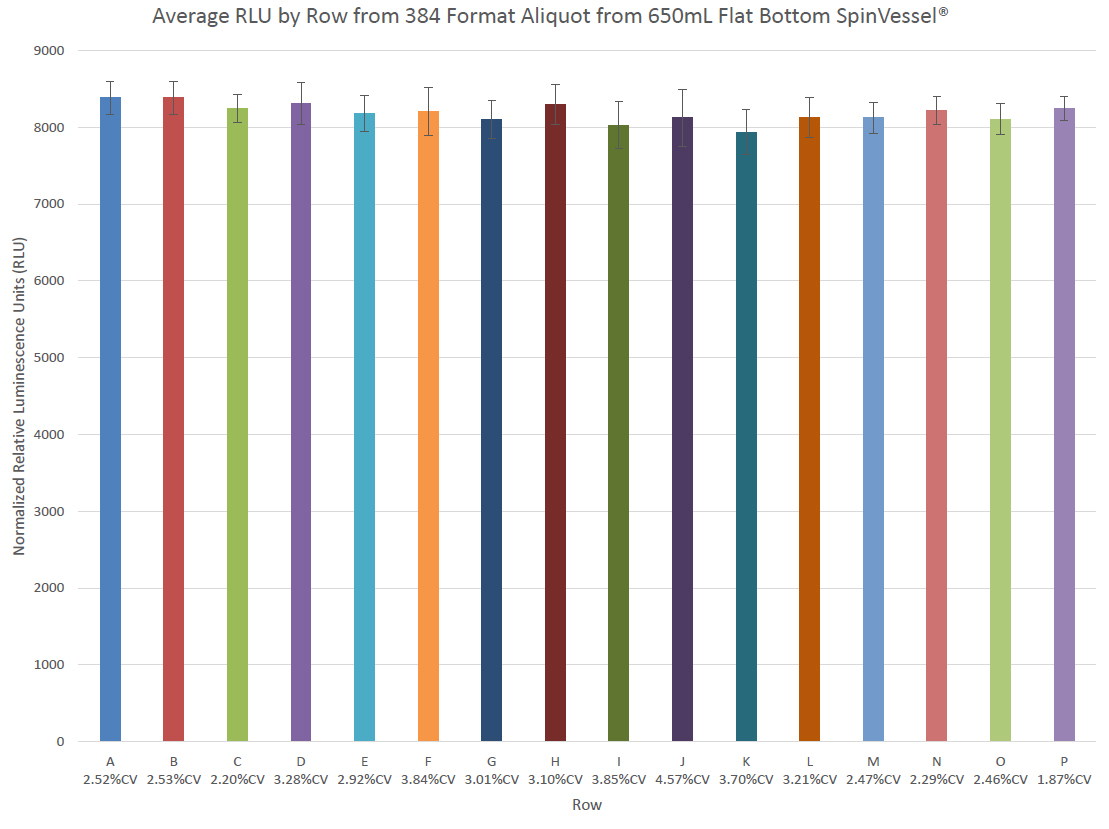 Plate 2 RLU

Plate 2 Converted From RLU To Cells Per Well

| | |
| --- | --- |
| Average | 7801.724 |
| Standard Deviation | 257.9931 |
| %CV | 3.306873 |
Photo Micrographs of a Monolayer from Plate 1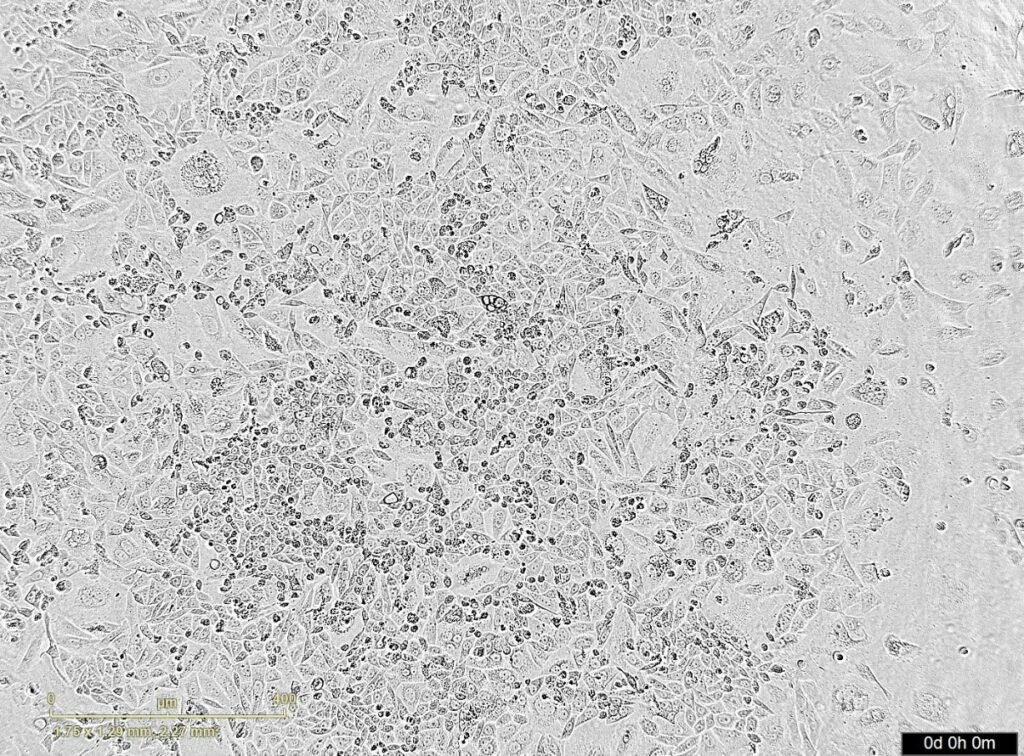 Photo Micrographs of a Monolayer from Plate 2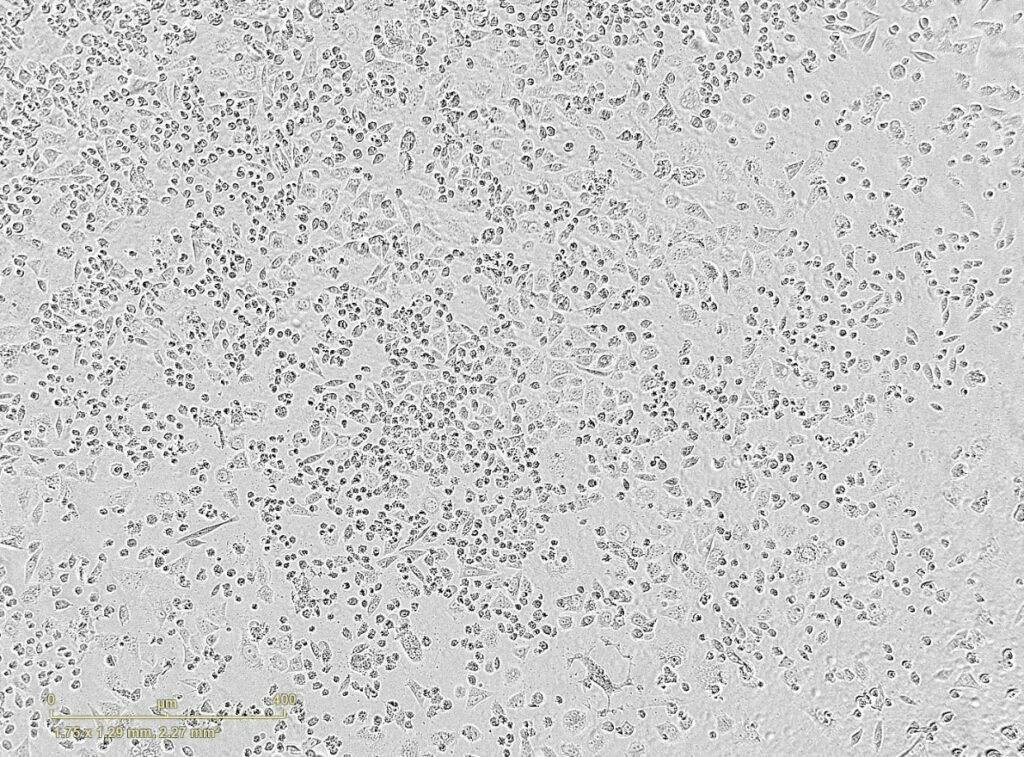 Conclusions
The uniformity of cell numbers in wells and the small %CV between 384 wells in both plates is striking.  These results demonstrate the uniformity of the Chinese Hamster Ovary cell suspension created by the SpinVessel® across all 384 pipets and agree with the results of my previous blog where a 12 channel pipet was used to obtain uniform Human Embryonic Kidney Cell suspensions in the same VP 830SV1-650FB SpinVessel®.  It should be noted that the center projections in the VP 830SV1-650FB SpinVessel® would interfere with the 384 pipets if they were lowered to the bottom of the vessel while the vessel was spinning.  Thus, although it is possible to use this vessel with a 384 pipet head, the dead volume of the cell solution would be larger than if one used a 96 pipet head which can be lowered all the way to the bottom of the vessel.  A custom SpinVessel will have to be developed to address the dead volume issue for 384 pipet heads.
The gentleness of the suspension is also evident as the number of Chinese Hamster Ovary Cells nearly doubled after 24 hours of growth and the cell morphology is very healthy looking as illustrated in the photomicrographs.