The V&P Scientific VP 711D-1 Parylene-C coated stir element has been used in countless applications where it was exposed to many solvents and has proven robust and inert. Recently, two of our customers alerted us to a problem with Parylene and some solvents during the course of their research. While Parylene is an encapsulation material (coated via a vapor deposition process), it maintains its integrity when exposed to various organic solvents; there are a select few solvents that will cause a weakening of the bond between the underlying stir element and the Parylene layer. To date, we have additionally observed that some ethereal solvents and halogenated aromatics also have this undesired ability. These solvents are to be avoided when using the VP 711D-1 stir elements to avoid results that can look like the reaction vial shown in Fig. 1.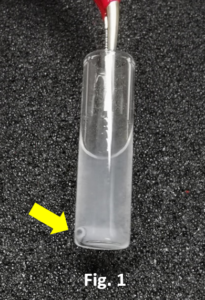 Solvents Incompatible with Parylene-C:
1,4 Dioxane
Tetrahydrofuran (THF)
Chlorobenzene
Diethyl Ether
When application needs require using the solvents listed above, researchers should consider using a VP 774-5 PTFE encapsulated stir element instead.  PTFE encapsulation has been shown to afford excellent chemical resistance to the solvents listed.
V&P Scientific's stir elements, tumble stirrers, heat blocks, PTFE-coated mat caps, glove box-friendly reaction blocks, and related equipment are an integral part of what V&P brings to the scientific community. How can V&P Scientific help increase efficiencies and overcome obstacles in your lab?