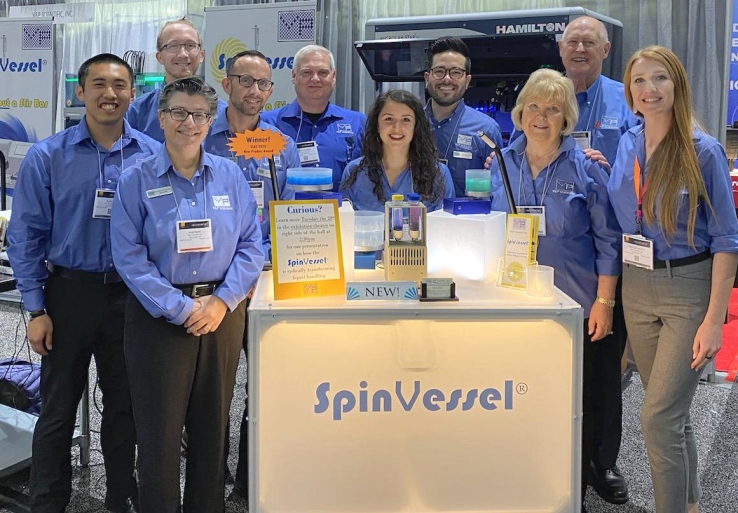 Overview
Each year the Society for Laboratory Automation and Screening (SLAS) selects a qualified panel of judges to determine which company receives the annual New Product Award. The award is given to the product that has: the greatest market opportunity, the broadest impact on scientific applications, the most original, and the best proof of concept. In other words, which device will most greatly facilitate scientific advancement?
Each year more than 300 exhibitors present automation and screening products to more than 6,000 professionals from the technology and life science discovery spheres from all over the world. A premium is placed on introducing novel products that will facilitate scientific advancement, so the competition for the New Product Award is quite stiff. The SpinVessel® provides a completely new method (using Pulsed Radial Flow) to mix and uniformly suspend particulates in a liquid on robotic liquid handlers and robotic reagent dispensers. It can also do this without damaging the particulates or killing fragile cells as conventional methods often do. V&P Scientific, Inc. is very honored and humbled to receive this SLAS 2020 New Product Award for the SpinVessel®.
SpinVessel® Applications
Uniform particulate suspensions for aliquoting on benchtop and on automated liquid handlders


Demonstrated to work with many robotic liquid handlers (Hamilton Star, GNF, Tecan Evo, Beckman FX, and I series, PerkinElmer Janus, Agilent Bravo, and Opentrons OT-2)
Demonstrated to work with Robotic dispensers (Formulatrix Mantis, BioTek Multiflo, Integra ViaFil)
Future robotic systems

Demonstrated effectiveness at gentle mixing and keeping particulates in uniform suspension.


Magnetic beads (Promega beads, Genscript Beads)
Silica beads (Illumina Beads)
Tissue Culture Cells (Chinese Hamster Ovary cells, Human Embryonic Kidney cells, and whole blood)
Chromatography resins
Organoid beads (Cytodex – dextran beads)
Diatomaceous Earth
Future particulates
Future mixing applications

Growing cells in suspension culture with increased O2 exposure
Demonstrated effectiveness in washing batches of magnetic beads to remove weak magnetic beads from production batches.
Demonstrated effectiveness of protein and antibody purification of recombinant tissue culture supernatants with magnetic beads – simplifies and speeds up the purification process.
Future purification applications with magnetic beads
See the other SpinVessel® blogs for more details and results.