V&P Scientific makes miniature magnetic stir discs that are encapsulated in PVDF or PEEK. These magnetic discs are well suited for stirring inside small HPLC vials.
Thomson SINGLE StEP™ and eXtractor 3D™ filter Vials are designed to speed up sample prep and analysis. The plunger filter with different membranes nestles into the vial while simultaneously filtering and readying the sample for any autosampler. This is a process that minimizes any loss of sample eliminating multiple transfers. Thomson filter vials are compatible with most standard autosamplers; such as Agilent® and Waters® including the UHPLC™.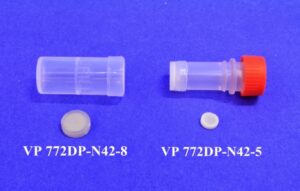 This photo shows a Thomson eXtractor 3D™ filter vial next to a couple of V&P PVDF encapsulated magnetic stir discs.
These stir discs have optimal liquid mixing performance with our VP 710D3 MultiStirrus™. This design is well suited for mixing different solutions or dissolution of powders.
When used in conjunction with the VP 710D3 MultiStirrus™, more than 100 HPLC vials can be mixed simultaneously. If resolubilizing your compounds after refrigeration, or aiding in the initial solubilization of compounds is important for your procedure, then this is an easy solution for you.
This video demonstrates stirring in both chambers and stirring in a single chamber after the filtration step has been completed.